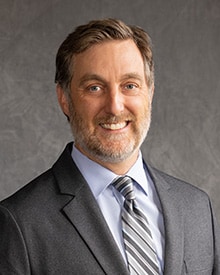 PRACTICE AREASHIGHLY PROFICIENT IN MANDARIN CHINESE
Jordan May is a practicing real estate attorney and shareholder at Frascona, Joiner, Goodman and Greenstein P.C. Jordan is a trial lawyer trying complex civil and real estate cases to judges, juries and tribunals across the state of Colorado. Jordan has argued cases to state and federal trial courts, Colorado courts of appeal, as well as the Office of the Administrative Courts. Serving as an associate municipal judge for the City of Englewood from 2009 to 2013 provided Jordan with a unique "from the bench" perspective on litigation which helps in the development of effective trial strategy. Jordan works closely with his clients to tailor a litigation strategy to meet a client's particular goals ranging from carefully calculated trial strategy to creative settlement scenarios.
As a former licensed Colorado real estate broker engaging in residential and commercial buy-sell transactions as well as property management, Jordan developed a practitioner's transactional perspective on the real estate industry. Jordan regularly speaks to real estate professionals and trade groups regarding regulatory issues, risk management, negotiation strategy, contract issues, as well as state professional license discipline among other topics.
Practice Areas. Mr. May practices in the following areas: Real Estate, Litigation, Creditor's Rights/Debtor's Remedies, Municipal Law, Land Use, Title Issues, and Special Districts.
Attorney. Frascona, Joiner, Goodman and Greenstein, P.C., Boulder, Colorado. September 2009 to present. Shareholder since January 2016.
Associate Municipal Judge. City of Englewood Municipal Court, 2009 - 2013.
Attorney. Folkestad, Fazekas, Barrick & Patoile P.C., Castle Rock, Colorado. Real Estate attorney specializing in real estate transactions, land use, municipal law, litigation, landlord tenant law, foreclosure, collections, and title issues.
Attorney. Balcomb & Green P.C., Glenwood Springs, Colorado. Real Estate attorney specializing in real estate transactions, land use, municipal law, landlord tenant law, title issues, and water law.
J.D., University of Denver Sturm School of Law, 2006
M.A., Johns Hopkins University, School of Advanced International Studies, Washington, D.C., 2002
B.A., University of California, Santa Cruz, California, 1998
ADMISSIONS

Colorado
The United States District Court, District of Colorado

AFFILIATIONS

Member, Colorado Bar Association
Member, American Bar Association
Presenter at the Special District Association Conference 2008: Special District Board Member Training Part 1 with James B. Folkestad, September 17, 2008, Breckenridge, Colorado.
Tao Jingzhou, Alexander Lunshof and Jordan May "Group Financing Companies: Financing Flexibility" China Business Review, Issue. 3 (May 2000): p 50.
Mediator.
Board Member for the City of Longmont Board of Adjustment 2013 - 2017.
Board Member for the City of Englewood Board of Adjustment 2009 - 2013.
Colorado Real Estate Agent - Inactive.
Highly proficient in Mandarin Chinese.
Google Review ★ ★ ★ ★ ★ My experience with FJGG has been exceptional. I was recently a defendant in a case and Mr Jeff Glotzer was my attorney, along with Mr Jordan May. Both attorneys, along with their staff, provided professional guidance and expertise during the lengthy process of litigation. In particular, Mr. Glotzer's skill set navigated every step along the journey with patience, understanding, and precision. In our consultations, Mr. Glotzer was able to both allay my anxiety and prepare me for the deposition and mediation process. It was also clear, Mr. Glotzer's attention to detail and his efforts with the court all played a part in a satisfactory outcome.
I highly recommend the FJGG Law Firm and in particular Mr. Glotzer and Mr. May.
Google Review By Andrea Cooperstein: ★ ★ ★ ★ ★ This firm represented me in what I thought would be the end of my Real Estate career...Fortunately, the expertise, knowledge and professionalism of the Attorneys ( D.Zumbrennan, J. Goodman and J. May) prevailed and I won my case!!! I could not have been in better hands. FJG&G provided explanations, careful research and constant communication throughout the entire process...if you need a competent firm to represent you, THIS is the group to hire.
Google Review By R Mari: ★ ★ ★ ★ ★ I live in Northern Virginia, and needed a knowledgable and skilled real estate lawyer in the Denver area. I spoke to many attorneys that supposedly handled real estate law in Denver, but never found one that knew what he was talking about when it came to executing a Partition order, except for Jordan C. May, Esq. I filled-out the company's form online, and that same evening on his way home, Jordan called me, and was very empathetic, and concerned about my personal situation, and quickly developed a first-step scenario to help with my situation. It was clear to me that Jordan is very, very smart, and has a keen insight into human dynamics, and paired with his real estate experience, he is certainly an attorney I would highly recommend. I would also like to compliment his special assistant, Brenna, who was extremely responsive to my calls and emails.
Google Review By Erin Alex: ★ ★ ★ ★ ★ Jordan May helped me with a real estate issue with my landlord about a month ago. The issue was taken care of fast and very professionally. He helped alleviate the stress I had been dealing with the situation, and I got a great result because of his knowledge and help. I would HIGHLY recommend Jordan as your attorney for any real estate issues!
RECENT ARTICLES BY JORDAN MAY
I am a real estate investor and I acquired a treasurer's deed to a property because the former owner didn't pay the property taxes. Do I need a quiet title action to sell this property?
Continue Reading