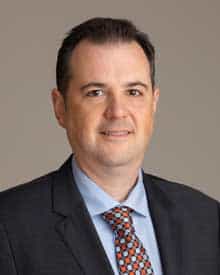 Of Counsel
Contact Me
Selected to Super Lawyers: 2016 – 2020
PRACTICE AREAS
Appeals
Intellectual Property
FLUENT IN ITALIAN
Jesse Howard Witt brings substantial experience to the firm's construction and real estate litigation practice group. Over his career, he has represented numerous homeowners, contractors, businesses, and associations in matters ranging from simple construction disputes to multimillion-dollar differing site condition claims. Mr. Witt has argued before the Colorado Court of Appeals and the Colorado Supreme Court, and he has served as lead counsel on several landmark construction defect lawsuits and arbitrations in Colorado. He has also testified in the Colorado General Assembly on many occasions for and against proposed legislation affecting homeowners and contractors.
Mr. Witt is a frequent author on construction and insurance law, and his works have appeared in the Colorado Lawyer, the Denver University Law Review, Trial Talk, and other publications. In 2014, the Community Associations Institute recognized Mr. Witt with its prestigious award for National Author of the Year.
Mr. Witt practices in the areas of construction defects, construction claims, real estate, intellectual property litigation, association law, and insurance bad faith. He also serves as a mediator for civil disputes and arbitrator for construction warranty matters.
Before joining Frascona, Joiner, Goodman and Greenstein, Mr. Witt was a partner in another law firm and the principal of his own practice.
Of Counsel. Frascona, Joiner, Goodman and Greenstein, P.C., Boulder, Colorado. November 2018 to Present.
Principal Attorney. The Witt Law Firm, Boulder, Colorado. 2008 - 2018.
General Counsel. Hamon Infrastructure, Denver, Colorado. 2015.
Partner. Burdman & Benson LLP / Benson & Associates PC, Golden, Colorado. 2000-2008.
J.D., University of Denver College of Law, Colorado, 2001

Transportation Law Journal Editor
Student Law Office Attorney

B.A., University of California at Berkeley, California, 1997

Astrophysics
Minor in Italian
California
Colorado
New Mexico
United States District Court for the District of Colorado
United States Court of Appeals for the Tenth Circuit
United States District Court for the District of Northern California
Supreme Court of the United States
American, Colorado and Boulder Bar Associations
Community Associations Institute
Colorado Trial Lawyers Association
Colorado Lawyers Committee
Rocky Mountain Immigration Advocacy Network
Associazione Internazionale Giuristi di Lingua Italiana
Super Lawyers®: Top-Rated Construction Litigation Attorney in Boulder for 2020 and 2016-2019
SELECTED PUBLICATIONS
Law limiting retainage in private construction contracts takes effect, COLO. REAL ESTATE J. (November 2021)
Supreme Court Finally Fixes 30-Year Old Defect in Statute of Repose, TRIAL TALK (August 2017)
Insuring the Risk of Construction Defects in Colorado: The Tenth Circuit's Greystone Decision, 90 DEN. U. L. REV. 621 (2013).
Interlocutory Appeals in Colorado State Courts, TRIAL TALK (April 2012).
The Spearin Doctrine and the Economic Loss Rule in Residential Construction, 35 COLO. LAW. 49 (July 2006).
Takwi v. Garland, 22 F.4th 1180 (10th Cir. 2022).

Provided pro bono representation to refugee fleeing torture and political persecution in Cameroon.
Successfully petitioned federal court of appeals to grant review of previous agency denials.
Established precedent on question of first impression in Tenth Circuit concerning standard for credibility determinations in asylum cases.

Stroh Ranch Development, LLC v. Stroh Ranch Business Circle, Inc., (Colo. App. 2018)(unpublished).

Obtained reversal of order finding that an HOA's statutory lien on a developer's property had become spurious based on intervening change in law.
Recovered award of attorney fees and costs for client.

Cherry Creek Recycling LLC v. Delaware Department of Transportation (AAA 2017).

Prosecuted subcontractor's differing site condition claim on major bridge demolition project.
Recovered $1.3 million from general contractor and department of transportation, proving damages using modified total cost method over two years of agency proceedings and arbitration hearings.
Defended separate suits brought by patrol boat operator and barge supplier in Delaware and New Jersey courts.
Filed declaratory relief action in Colorado that secured insurance defense coverage for alleged liability.

Towne Square Lofts Homeowners Association v. Towne Square Condominiums LLC (AAA 2015).

Overcame statute of limitations and repose defenses for thirteen-year old community facing construction defects.
Recovered $1.5 million in damages and attorney fees from developer and parent company in arbitration.

Hamon Contractors Inc. v. City of Louisville et al. (Colo. Ct. App. 2009-10).

Obtained reversals in appeals finding contractor liable for attorney fees and bound to unfavorable settlement.
Co-chaired successful prosecution of claims at jury trial following remand and helped procure final settlement of $1.6 million in damages and attorney fees.

Cleary Building Corp. v. Dame, 674 F. Supp. 2d 1257 (D. Colo. 2009).

Defended building owner accused of federal cybersquatting violations and trademark infringement.
Obtained dismissal of plaintiff's claims on Rule 12 motion, establishing precedent regarding noncommercial use of trademarks on consumer gripe sites.

Flatiron Crossing litigation (Colo. 17th Dist. 2009).

Represented restaurants unable to operate in shopping mall due to damage from expansive soils.

Heritage Village Owners Association v. Golden Heritage Investors Ltd., 89 P.3d 513 (Colo. App. 2004).

Served as trial and appellate counsel on case that set precedent for homeowner association standing and measure of damages in residential construction suits. Argued insurance issues and helped negotiate $6.5 million settlement.

1727 Pearl Street Homeowners Association v. Triton Development LLC (Colo. 2nd Dist. 2004).

Represented client during construction defect arbitration and subsequent insurance coverage dispute, resulting in settlement of over $2.5 million.
Rocky Mountain Immigration Advocacy Network – Volunteer attorney
Colorado Lawyers Committee – Board member of consortium providing pro bono legal support to children and disadvantaged communities
Community Mediation Services – Volunteer mediator for community disputes including landlord-tenant disagreements and attorney fee issues
Colorado Bar Association – Panelist at annual appellate practice seminar
National Business Institute – Taught courses on construction law, insurance coverage for construction defects, and ethics in construction litigation.
Google Review By Tony Stanley ★ ★ ★ ★ ★ This is the first time I have seriously needed legal help as I was fighting an insurance company. A real David and Goliath situation. They flat out denied my claim and were not budging. Jesse Witt stuck with me and kept at it until they agreed to cover my claim. Without the legal help I received I doubt I could have ever prevailed. I would give them/him six stars if I could.
RECENT ARTICLES BY JESSE WITT
Contracting parties may extend the statute of limitations for construction defect claims, according to a new opinion from the Colorado Court of Appeals. Construction defect claims in Colorado are subject to the Construction Defect Action Reform Act (CDARA), a series of statutes first enacted in 2001 and modified at various times since then.[1] In 2007,
Continue Reading
Jesse Witt is of counsel with Frascona, Joiner, Goodman and Greenstein, P.C., a Colorado law firm. His practice areas include Construction, Litigation, Association Law, Real Estate, Appeals and Intellectual Property. Contact Jesse Witt.
Disclaimer — Content is general information only. Information is not provided as advice for a specific matter, nor does its publication create an attorney-client relationship. Laws vary from one state to another. For legal advice on a specific matter, consult an attorney.